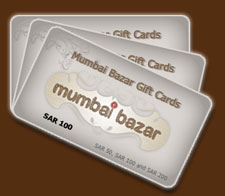 Searching for a perfect gift for a Wedding, Birthday, Coffee morning or Kitty parties???

The answer is right here. There is nothing like a Gift Card from "mumbaibazaar". The recipient will be more than happy to shop on her own choice and select from the best rather than receive an inappropriate dress material. So go ahead and be unique in your gift ideas.


"MUMBAIBAZAAR" Gift cards available in the denominations of SAR 50, SAR 100 and SAR 200.